en-US
I have been a long-time viewer of news websites: msnbc.com and npr.org until now. But late total redesign of their sites were truly double whammy for me, too severe to tolerate. It's so sad for me have to not look at those ugliest sites. Overblown pictures, ugly typography, without scrolling can't see the 2nd articles, etc etc.. Right after the Obamacare website's fiasco, what's going on with these 'too-progressive' web designers? Looking at these two 'weird-looking' sites, I can't help but concluding the two sites were designed by the 'progressive' designer. Now, I have to love the New York Times web-look more than ever.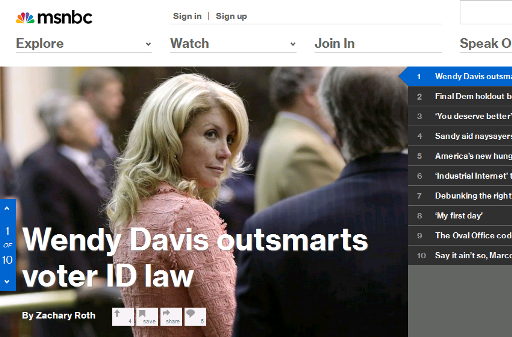 Surprise! Goodbye msnbc.com..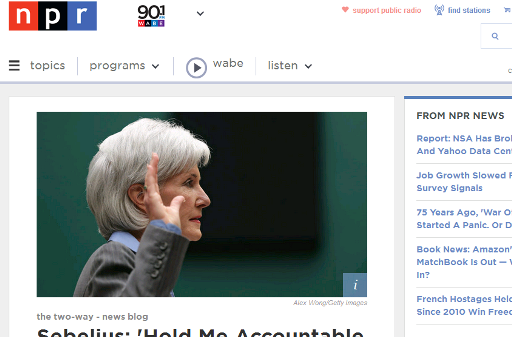 Had to look different so bad?
This is just crazy. This even looks like 'fake update' just for getting more 'download count', I hope not. Here I'm talking about a small CAPTCHA 'contact form' plug-in for WORDPRESS which I'm using for some time. While I really appreciate for the authors' effort giving us fair quality 'free' plug-in, it's very annoying having to update every other day for months. This not only points to their sloppy and crazy software design practice, but also makes me suspect their intention, higher and higher download count. Why not just wait a month doing more careful design instead of 2-3 day debugging cycle? Maybe, it's time to look around other alternatives out there.
---
Just take a look at their latest 'release' cycle to see my point.
Changelog

4.0.15

(12 Oct 2013) – allow HTML in "Your message has been sent, thank you." custom label.
Bug fix: the attrubutes setting was not working on name, email, subject, fields.
Bug fix: schedule a meeting button could show when not activated.

4.0.14

(11 Oct 2013) – Bug fix: view /print button did not work with some plugins.
Bug fix: schedule a meeting button user preference default problem.
updated German (de_DE) translation.

4.0.13

(08 Oct 2013) – Bux fix: some forms would fail to import when label had some Non-US-ASCII or Chinese characters.
Bug fix: Form save error when tag had some Non-US-ASCII or Chinese characters.
Bug fix: button on the Tools tab "Import forms from 3.xx version" did not always work correctly.

4.0.11 & 4.0.12

(06 Oct 2013) – Improved placeholder text to work on older browsers.
Added new style setting for "Placeholder text" so you can change placeholder text color if you want.
Note: if you are using the External CSS setting you should import the new placeholder css, click "View custom CSS" on the Styles tab to see it.
added new setting to Advanced tab "Enable to have the email labels on same line as values".
updated German (de_DE) translation.
Bug fix: copy styles was not copying all of the style settings.
Bug fix: button on the Tools tab "Import forms from 3.xx version" did not work correctly.

4.0.10

(03 Oct 2013) – Bug fix: Activation generates "unexpected output" notice to admin.
Bug fix: Could not select "Block spam messages" for Akismet.
Bug fix: Field Regex was always validating as if required.
Bug fix: Atachment file types, and file size labels were not working properly.
Bug fix: Field default text was not showing in form.

4.0.9

(02 Oct 2013) – Bug fix: PHP method of calling form display was not working.
Bug fix: time validation did not work on 24 hour format.

4.0.7 & 4.0.8

(01 Oct 2013) – Added a button on the Tools tab "Import forms from 3.xx version" for those who might be troubled by an import failure.

Bug Fix: fixed a couple problems with importing settings from 3.xx version.

Bug fix: none of the language translations were working.

Bug fix: there were some ui image 404 errors from includes/images

Bug fix: vCita setting error.

other minor bug fixes.
For the last few months, I have been wondering what's wrong with this Google Chrome browser. It began with the flash video (embedded), stuttering audio and video, sometimes got locked up. A few googling revealed a few tricks like "chrome://plugins" which seemed helped for a while. Now, switching between tabs is getting harder and harder, mostly the whole tab page locked up, the tab renders a 'white' page. So, what's going on here? The mighty Google engineers, what the hell are you doing? The browser was a such a joy to use for long time, after Firefox. In desperation, I switched back to Firefox.. .well… it is flawless! I know I have to forgo the very convenient Chrome's syncing tool, but I don't care anymore.. Bye Chrome.
This morning, I got a suspicious email into my Junk E-mail folder, which I would normally ignore. This time, however, it got my attention because we were indeed expecting a package delivery. Even though we already knew the package carrier is not Fedex, what if it changed the carrier? But again, it looks to me like a typical scam email because our package carrier is not supposed know my email address. The suspicious email has an attached payload zip file. The email says in not-so-perfect English:
Dear Customer,

The delivery service couldn't deliver your package.
The package weight exceeds the allowable free-delivery limit.

You have to receive your packagen personally.
Print out the "Invoice Copy" attached and collect the package at our office.

Please read carefully the attached information before receiving your package.

Thank you for attention. FedEx Global.
The attached payload file name was: "FedEx_Invoice_Copy_N44-134.zip"
The zip file was only 3 byte long.. What's going on here? If the zip file ever gets clicked (opened), 100% virus-generating code would infect the running PC.
 The email forensic reveals that it has originated from www-data <www-data@mail.ecom.hu>. Googling reveals it is not even a legit domain name, in other words this email contains 100% lie. What kind of world are we living in these days?
You God Damn, Son of Bitch coward, losers whom I hate most in universe, they are the people who intentionally infects people's computer with this rogue malware called Vista Security 2012. When my daughter called home scared complaining about her infected Vista laptop, I knew it was one of those fairly easy infections. But it was wrong when I actually saw it myself. In a word, the Windows becomes virtually useless, only thing you can do was clicking OK to purchase their 'anti-malware' problem! Probably some eastern European mafia hired some third-rate malware writer cheap, wants free money. Knowing the infected Vista laptop is almost impossible to use for finding some help on Internet, I found how other people handle this trash, and some removal tips from my own PC. To be honest, even those sites looks like eastern European mafia showing so many misleading ads. With desperation, I actually tried following their tips, but again it looks like either long process or eventually futile attempt. Then, I came to think of it.. SYSTEM RESTORE built in feature on Vista. This, from my experience, would almost always works, nixing any worst infection by going back to previous PC snapshot mode. But again, I could not 'execute' the SYSTEM RESTORE on fully running Windows screen simply because the rogue malware blocks every attempt to do that. Only possible method in this case is to log into SAFE PROMPT mode (hitting F8 key while boot). When you're on DOS PROMPT screen, run the system restore program by typing "RSTRUI.EXE" (without quotation marks). Then the PC may look 'dead' but after some time, it will run the SYSTEM RESTORE. This is what I did, still believe the best, cleanest, and easiest method.
Question: Am I the only one in the world whose installation of newly released PIAF2 (PBX-in-a- Flash 2)on PVE (Proxmox virtual machines) miserably keeps failing?
This feels so strange because I can not remember if it ever failed to install before. The problem is that after the first phase of installation, it just goes the infamous #bash prompt meaning the following phases simply refuse to begin. I first suspected the problem with network connection (ethernet, IP etc), but when I do 'ifconfig', it correctly displays dhcp'ed IP address and ethernet connection information. I have repeated this process at least 4 times before declaring something is gravely wrong with this latest release. It looks to me not even ready for the usual internal alpha-release stage, how they dared?
---
HAPPY NOTE: I'm sorry, PIAF2! Again, it's not your fault but my own 'not-so-perfect' installation setup. I, somehow, suspected this for some time, but not was so sure. As it turns out, my network's dhcp server didn't provide DNS server info correctly, rather it did not supply one! Later PIAF2 installation scripts also was at fault in that it simply gave up trying to connect PIAF server too early without giving any hints what's wrong! Just one lousy error message would have saved a lot of my wasted time. After I replaced current dhcp server (which is a simple DSL router) with a dedicated DD-WRT router which has more robust dhcp server in it. Now, this latest, greatest release installed without any glitch, I am now eager to find out what's in there.
This is one good example of how a nice-sounding family-friend run small business on Internet. The business is has no physical store as I know, but very good web-based store along with sweet-looking background friend-family story. They apparently are electronic enthusiasts at least if not full engineers selling mostly Arduino related small electronics parts to Arduino community. So far so good.
 After long hiatus from exciting electronics building days, I decided to start with this wonderful, inexpensive Arduino open-source micro-controller boards. First, I got introduced to MakerShed and SparkFun which sells good-quality Arduino parts, and bought some basic components like Arduino board, ZigBee radios from them. Their prices were very reasonable if not expensive.
 Then comes yourduino.com.. My impression was like: good international friends turn their passion of Arduino into good global-reaching business taking advantages of 'dirt-cheap Chinese labor'. Well, looks good and sounds good until I found out otherwise. What I have not realized that the proprietors have near-zero control over their own stock, fulfillment process, record-keeping etc.. In short, they have no idea what they have shipped for my order! This is exactly "you get what you have paid for" situation. In conclusion, I have no intention to have another business with this virtual shop in future.
What did they do with this reliable 'old' wordpress.com stat? Months ago, it simply stopped working, then behaved weird a few days. I already had accumulated a year's worth stat by then, but it now looked so strange. A few googling revealed the 'old' style wordpress.com stat server, which apparently runs by AUTOMATTIC (the wordpress company) was upgrading the whole thing. Well, no complaint for this, that's theirs anyway, but for me it was frustrating anyway.
Then, boom! Jetpack? Wow.. the old venerable 'stat' is now bundled with many other junks! No choice but to have to install the 'bloated' stat to keep my old year's worth stat. Now the fun part here. Yesterday, I accidentally 'deactivated' Jetpack (100% accident), so it was immediately reactivated. How stupid the Jetpack was..it never bother to ask 'you might lose the whole previous stat' part. Amazing, after reactivation, I have a 100% clean history, it has reset my year's worth history clean! Who has come up with this stupid 'design' anyway?
I have 2 Google Voice accounts set up, integrated into my home Asterisk PBX (a PIAF aggregation) which runs on a Linux virtual machine. It provides us free US and Canada calls and very low price International calls (comparable to Skype). Making and receiving call via GV (Google Voice) are nearly transparent thanks to Asterisk integration (it simply means the users can hardly notice they are using GV).
This may not sound significant but with this 'GV trunk' setup, virtually all long distance calls are now free. With that in mind, I cancelled my long distance account saving at least $10 a month. I know the proven reliability of existing long distance carrier from my long experience, but how about this free one? For the test, I have used this GV for the last 6 months almost every day while walking my dog around my neighborhood. The call from my cell phone goes to my local GV number (DID) which in turn transfers the call to my other receive-only DID (another free account). This then directly calls my Asterisk PBX. In spite of its complexity, user hardly notice any delay or interruption. This of course only test voice part of calls, but how about notorious fax calls?
I just assumed analog fax would be very hard to go through this 'unknown' water. Until now, I just direct my fax calls to my existing local carrier, PSTN. That's fine with any local faxing, but how about long distance fax? Never tested before. VoIP trunk is notorious dealing with analog fax, they would say, like 'fax & pray for the best'. Now, time has come to fax to Korea. Is it possible to use GV trunk for this?
I've setup a test to send test fax to HP fax-test number (a toll-free number:8884732963). This HP fax-test number is really convenient for quick fax setup test. Upon receiving any fax, it faxes back to the caller. I used WinFAX software via home PBX GV trunk to HP test number. Would it work? Well, it works without any problem! Now, I can send faxes to anywhere at near-free cost..thanks GV!
After the very affordable, easy-looking WordPress for Dummies, I've looking for next level 'technical' book about the popular WordPress blogging platform for months. But I'm not impressed, no going further, totally disappointed! Maybe my expectations about this 'bible' have been too high or unrealistic.
In a nutshell, overall coverage about various aspects of this excellent platform were off-balanced. The general layout is by any means excellent, but the contents are not. Overall treatment of each subjects is very shallow with some surprisingly 'too deep' dive into 'nonsensically too long' code snippets all over. For example, I was eager to find some 'value-added' tips on non-blogging CMS setup, but it's not even close even to the Dummies' WordPress book which in my opinion is the best introductory book.
One more thing, the sample codes were downloaded from the publisher's site, it shocked me dearly.. why?  Its format was docx… well I need MS Office 2007+ to open this 'codes'. I can't remember the last time code written in docx. Maybe, the author writes the code with MS Words.